Powerfully expressed and lively. And that's just Graham. His wine is good too!
They say never meet your heroes, in my experience, however, this isn't true. When I look back at the likes of Kate Winslet and Dame Helen Mirren they were the easiest of all my interviewees. They're just themselves; no bullshit, no lengthy preamble from their 'people' beforehand, no strict criteria before I met them. Just themselves and very little, if anything, is out of bounds. They know they're perfectly capable and there's an easy calm that comes with people at the top of their game. So, I'm delighted to report Graham Norton was exactly the same. Normal, lovely and full of chat and good humour. I especially loved our off-air chat as we waited to go live during the ad break. It's a time where you can gauge how things are going to go, gauge the mood and the tone.  He settled in and remarked that our coffee tables on our new set are the same as Holly and Phillip's on 'This Morning'. We laughed about it and I told him that I'd spotted a similarity but that I had asked our set designer (which I had!) and discovered ours were sourced from made.com  'Well then they're not exactly the same because the ITV ones are from Oliver Bonas ' Graham added. It seemed we had both made inquiries about the glass tables.  I was trying to take it all in. I was chatting about interiors with Graham Norton. Just hanging out talking coffee tables and stuff. I tried to stay all easy breezy. I was probably anything but. He would make my perfect NBF. He just didn't realise it yet!!
So, in light of his recent visit, I thought I'd give Graham's wine a try and just like the man himself,  his tipple is full of expression!
The Graham Norton SauviGNon Blanc, (see what he did there?!) shows nectarine, red apple, rockmelon and green kiwifruit characters with a hint of flinty complexity. That's the wine experts say.
What does Graham say? He says it's his 'perfect blend and it's… lovely…tropical fruit, a bit of zing'.
I've tried it and for it's affordable price tag, this multiple award-winning wine is a delicious SauviGNon Blanc. Full of flavour but still light and fruity.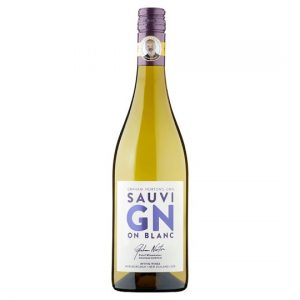 Available widely from Dunnes to Tesco, Centra and Supervalu and retails at approx 15 euro.
Also worth noting that the GN sparkling Italian prosecco is on special for a tenner in most of the above-mentioned outlets at the moment.
Now all I'd like is to continue our chats over a bottle of his SauviGNon!
Cheers!
(Click on the below link to see the full Weekend AM interview)
Please drink responsibly.