Bananas for mellow yellow
I've always loved the colour yellow. The shade of hope and sunshine, cheer and warmth….what's not to love? Even my bridesmaids wore yellow on our wedding day. We did get hitched in Portugal however so the scenic, sunny environs helped justify my colour choice!
Recently when doing a cover shoot for the RTE GUIDE in Powerscourt Hotel the stylist, Roxanne Parker, suggested we take a fun slant with some of the outfits and who was I to object?! A super-stylist to the stars (no idea how I landed her!) Roxanne will co-ordinate unlikely pieces and things just fall in to place under her expert eye.
RTE GUIDE Cover, May 5-11th 2018.
My favourite look from the day was this yellow skirt below, a banana t-shirt and leopard print skyscraper heels. An unlikely combo but it worked and we all loved the results.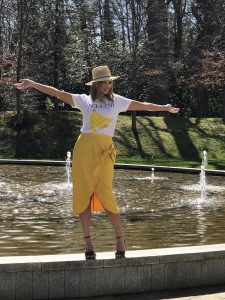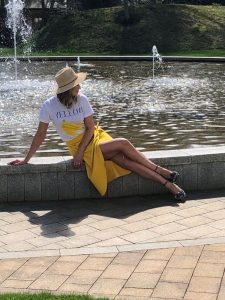 Shop the look here

Sun-soaked styles…
From neutral heels and basket bags to floaty floral dresses, the ultimate summer 2018 flats and the cutest beach bikini,  I've listed off some of my fave summer pieces so dive in