Calling all Wedding Belles….
Whether it was love at first swipe and it's you getting hitched or you're part of a wedding party and you're the bridesmaid, you'll most likely be knee deep in wedding planning and plotting. It's a minefield right?! Full disclaimer here, I revel in all things weddings and there isn't a part of the day that I don't enjoy. Well, there is one part that makes me cringe but it's not actually on the day. It's the chats over breakfast the following morning where the most Irish chat EVER takes place. It's the post-mortem, 'What time did you finish up at?' narrative that I can't cope with. Maybe it's because, like most of us, we're all a bit tender after a big day of celebrations and my tolerance levels are lower than usual but that Irish thing of exploring what time every person 'finished up at' drives me nuts. There's always the lad who stayed up till 6am talking to strangers and singing ballads and now he's the most talked about, most hungover person in the breakfast room and we discuss him like he's some kind of legend. Anyway, I'll let this go and focus on the fabulous stuff rather than my intolerance for our cultural obsession with who stayed out latest.
So, on to the good stuff.
I asked some of my best friends to share their tips or even little learnings from their big day. There were some interesting sound bites so brides/bridesmaids here goes!
My own personal regret (it's a first world problem admittedly!) is that my bouquet hid the intricate details of my beloved Jenny Packham wedding dress. It's a minor thing but worth sharing so you guys don't make the same mistake. Another pal of mine suggests that you should make it a priority to get a shot of yourself and your Mum early in the day as it's such a precious day for you both. It's a fair point, there'll be plenty of photos of your Dad walking you up the aisle, but it might not be as obvious to include your Mam in a special, memorable shot.
That's assuming you're lucky enough to still have your Mum and Dad of course.  Another friend suggested the underwear that can be more like 'under armour', and is actually not required for many of us so after the church, she whipped it off and was much comfier. Nothing was going to hold her back on the dance floor on her big day!
IF SPEECHES ARE TERRIFYING ANY OF YOUR FAMILY MEMBERS THEY ARE CERTAINLY NOT ALONE.
I know my own Dad was anxious about the daunting task and I've never seen him so relieved when he got through his speech successfully. If you feel there's a member of your bridal party who's desperately fearful of the upcoming speech, there is a great service available should they wish to get some expert assistance. Take a look at www.thedreadedspeech.ie for further info. Most importantly, do some research online and prepare and rehearse your words. They don't have to be worthy of an Oscar, just heartfelt.
Another great tip from a pal deals with the hair and make-up. You may be shocked initially at the quote for hair and make-up, particularly if it includes travel to the venue. Spend. The. Money. Take the budget out of the designer shoes and put it into the hair and make-up, you'll get a much greater return. It's hard to argue with that solid advice really, I mean how often are your shoes seen on the big day never mind afterward?! My go-to people would be the MakeUpDept (I'm biased here, Adrienne and her team look after me for Weekend AM!), Paula Callan at First Option, Brown Sugar or Lyndsey Cavanagh at One Dame Lane and Paul Hession for hair. Bear in mind these guys will need months of lead in time for a booking especially where travel is concerned.
The Cake
Often the day is so emotional that even the cake is in tiers. Sorry! If you're not sure what style to opt for when it comes to your sweet treat, have a look at these creative confectionary masterpieces where there's no shortage of inspo!
Could this be the most perfect wedding present?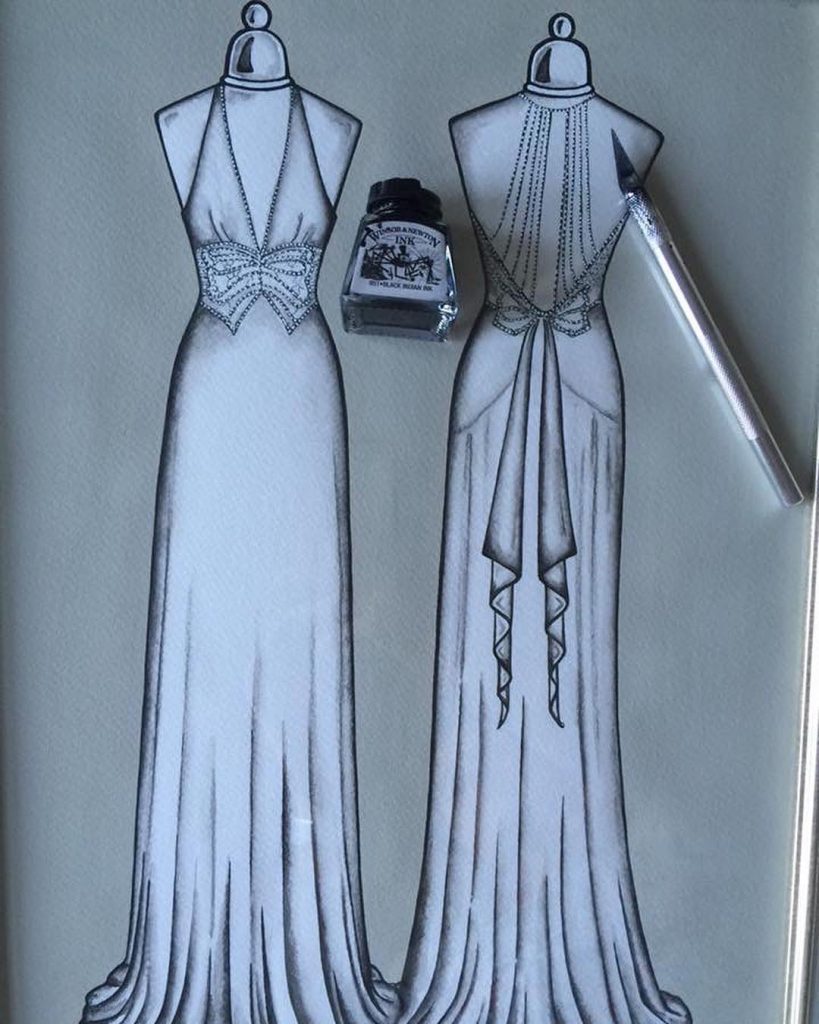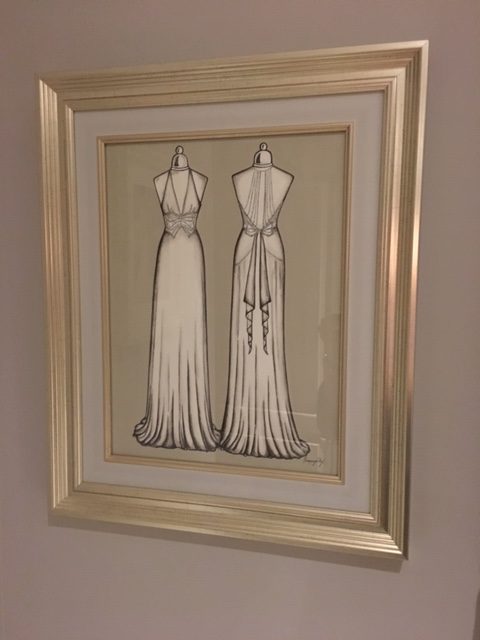 Rosemary Wiley is a Cork-based illustrator who sketches your wedding dress in the most unique fashion. A passionate artist, Rosemary doesn't work off any templates and every single intricate detail of your wedding dress (or any outfit you choose to have illustrated) will be recreated freely by hand, using a fine-tipped blade and a pot of black ink. Therefore, everything this talented artist does is completely unique and bespoke to each client.
This is not something that's thrown together in a lightning fast sketch, these pieces of art take a minimum of 40 hours to complete and then they're framed and gift wrapped for you or your recipient. There's even a vintage brown paper gift wrap used complete with lace and ribbon detail with personalised tags to accompany this special gift. This could be something you buy for yourself, your friend, your bridesmaid or just someone special. With a starting price of about 240 euro, it's not the cheapest gift you'll ever purchase but it could well be one of the most special. Mine hangs in our living room and it's something I'll never tire of looking at.
Find all the fabulous details on Rosemary's website here or on facebook.
A smaller wedding gift for the bride or bridesmaids…
Entrepreneur Ciara O'Brien runs the Personalised Hanger Company and personally personalises hangers so the dress looks even more beautiful for those all important wedding photos. The self-proclaimed designer, wire blender, administrator and tea maker is a great example of one of those people who's creating her own crafts from her kitchen table and although they're only priced around 22 quid, I think they're something you'll always keep long after the big day. These gorgeous hangers are definitely guaranteed to
pretty-up the aesthetic of your wardrobe too!
Here we are enjoying the party of all parties in Portugal on our big day. I'd love to do it all again. With the same guy obviously!
So, to love, laughter and happily ever after!
Anna x
P.S. If you're a wedding guest this summer, I've put my wedding guest edit below. Enjoy!