Five interior design features that will make your home more current.
'You're here all hours of the day and night' I exclaimed to my GP recently, to which her response was 'my deep love of panelling is real'. It's a love that calls for overtime to pay for her passion. It's also a comeback that made me smile. She's just bought a house and her interiors wish-list is extensive. If she could panel her toilet seat she would. Here's her sister! It got me thinking, you actually don't need a multi-million euro mega-gaf to make some small changes in order to give your home a newer, fresher, more contemporary look.
From the countless interiors shows and home expos I've broadcast from and MC'd at, I've picked up a fair few tips from the experts. Here's my top five:
1. Wallpaper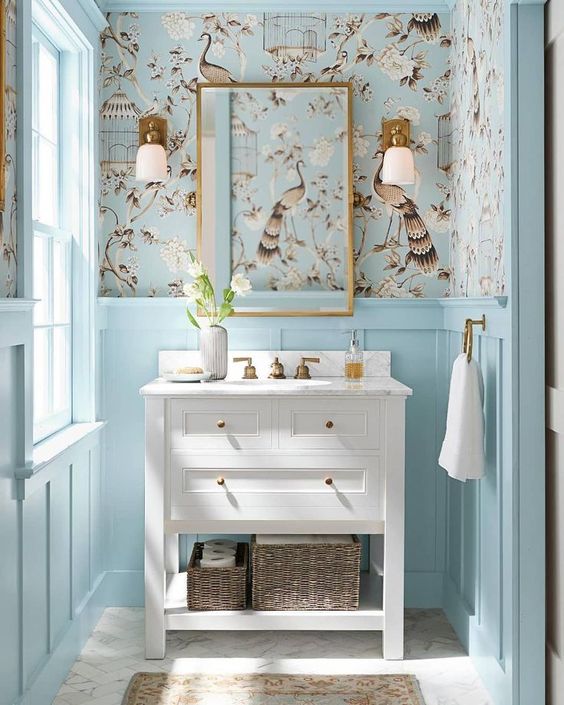 After years of giving my (very stylish) mother a hard time over her 'busy' wallpaper choices throughout our home, I'm gonna have to reverse my decision and suggest my Mam was right after all. They always are aren't they? There's inspo everywhere for wallpaper ideas (have a look at the London inspired one I found in my selection below!)  and often it's combined with panelling in a neutral shade to add texture and soften a bold pattern or print. They vary dramatically in price but often the high-end designer ones can be found in much more affordable versions. Check out papers by 'Sanderson' with their woodland and swallow themes at http://stylelibrary.com for inspiration and also Matthew Williamson for pure, unapologetic indulgence. Be warned, Williamson's prints are not for the faint hearted!
2. Panelling
So, we gave it a mention in the above and it isn't just my GP who's obsessing over it. Wood panelling can transform a room and works outdoors as well as indoors. It doesn't just look pretty either, it can serve to lengthen or heighten a room and it feels modern and contemporary but yet there's something rich and quite classic about it too. Ask a carpenter you know for some ideas, even a small feature wall. I know the make up artist Paula Callan in https://www.callanandco.ie had a family member do the panelling in her salon in Dublin and it's a great example of how effective it can be. The tall ceilings of the old St.Mary's Road building don't do it any harm either.
3. Lighting 
No one needs convincing of how effective good lighting can be, right? If you've gone quite classic with most of your home furnishings then you have license to be a little more creative with your lighting but there's a fine line between a warm glow and not being able to see what you're doing!  Whether it's a brave feature that lights up your garden party patio area (as per the pic) or more fun pieces for the interior, make sure you have the balance right between style and practicality. Pendant lights shouldn't be too low (tallest person in the house should be well clear) and they also shouldn't break up a room by obstructing your view.
4. Play with texture 
It's a line that's used over and over again in the world of interiors but it's so true. Mixing and layering fabrics and textiles to compliment each other and create a sense of home and warmth certainly works. This is the most inexpensive way to update your space. Add fluffy fur or wool throws to natural fiber rugs and a linen or leather couch. Straw baskets and wooden logs, a tiled marble or a velvet ottoman. There's no rules here, it's about having fun with what you have already and introducing some new additions.
5. Add Grey or Navy 
After possibly overdoing my fifty shades of grey theme for our own home I still have no regrets. Granted there's still a requirement for more colour in some of the rooms but it's a palette that is anything but grey to live with. I actually find it a really soothing colour. What I have noticed in show-houses generally is that if it isn't grey, it's navy. From navy kitchens to navy rugs (navy looks particularly effective with dark wood floors) and navy accent walls, you're on trend if there's touches of navy or grey it seems. Need to convince myself of the grey part given my personal investment in the colour!
Like many of you, my interiors wish-list is as lengthy as the panelling I plan on getting at some point. And I never even got to my desire for a gigantic utility room.
The web is incredible for beautiful home inspo and below is a selection of interiors and pieces that caught my eye online.

(Please be aware that should you shop any of the links above, I may receive a commission).