From Russia with Love
Location – St. Petersburg, Russia.  
  –
When visited – April / May 2018
–
Temp – 8 to 15 degrees
–
Flights
– Finnair
www.finnair.com
 with a transfer (no direct flight from Dublin) in Helsinki, Finland.
–
 Flight time – 4.5hrs plus stopover time.
–
Time difference – + 2 hours
–
Population – 4,661,219 (Second only to Moscow)
–
Currency – 1 Russian Ruble = 0.014 euro.
A better guide is that about 700 (728 at time of publishing!) rubles equates to about a tenner. There's a suggestion that the exchange rate once in Russia is unfavorable so perhaps bring the rubles with you if  you must have cash. My debit card was widely accepted as is visa/mastercard.
–
About St Petersburg
The former Russian capital (until 1918) is still undoubtedly the cultural capital of Russia with world class ballet and opera shows (we didn't get there, I blame the vodka!), grandeur and opulence that will amaze and vast collections of rare art and treasures that you could get lost in for days.
Where we stayed?
We indulged a little and stayed at the official hotel to the state Hermitage museum, the State Hermitage Hotel https://thehermitagehotel.ru/ Located about a 10/15 walk outside the city center which makes it a luxury hotel that's a little more affordable than those bang in the center. Rated at no. 8 of 374 hotels in St Petersburg on
tripadvisor,
it's certainly a luxurious hotel with all the pzazz of the signature Russian interior style; ornate, decadent and an abundance of marble. There's a quiet hotel bar that's nice to start or end your evening in but won't hold your attention for much more than that. My personal highlights; the heated toilet seat in our bathroom and the fact that champagne is served like it's coffee at breakfast time. What's not to love?!!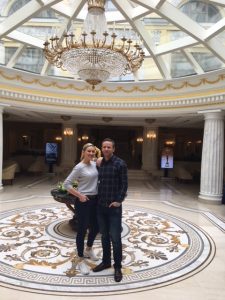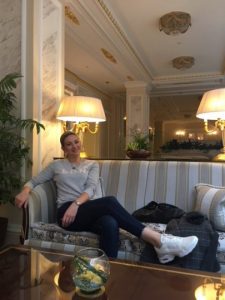 A must-visit… 
The State Hermitage Museum http://hermitage–www.hermitagemuseum.org/wps/portal/hermitage/
An absolute must-see, this is the number 1 attraction in St Petersburg and on exploring it, you quickly realise why. One of the biggest collectors of art EVER, Catherine the Great started the collection and now the museum houses three million items in it's gigantic collection spread over 360 rooms. There's five linked buildings from the Winter Palace to the Small Hermitage, the Great Hermitage, New Hermitage and the Hermitage theatre. This former home to the Russian royal family boasts one ornate ceiling after the next and just when you think you can't be wowed anymore, you're wowed Russian style. They don't hold back and they're not afraid of overdoing gold finishes, pure unapologetic opulence and utterly splendid decoration with an incredible attention to detail. A funny point worth mentioning, there's little old ladies sitting on chairs in each room guarding the precious art. They don't smile, just carefully look over the masterpieces that they're almost matched and co-ordinated with from their cosy chair. 'The Guardians of the Hermitage' as the New Yorker once referred to them. I almost lost an entire day here and I only scratched the surface so be sure to plan your visit in advance.
Where to eat…
A couple of bookings prior to arrival is always wise. I say this but it's actually my more organised other half who tends to do the research and forward planning. I'm simply the beneficiary of his diligence. I was extremely grateful however when I realised it's not necessarily one of those cities you wander around and naturally stumble upon great places to eat.
It's an in-the-know kinda city.
So, we headed to Mansarda
https://en.ginza.ru/spb/restaurant/mansarda
 for a pre-booked lunch. Located at the top of a corporate style office block, the entrance won't impress but the view once you arrive to the restaurant surely will. Mansarda restaurant boasts one of the best views in the city, so good that you'll be blown away by the dramatic sights of St. Isaac's Cathedral outside the window. An insta-ready restaurant, it's trendy front-desk staff can be a little cool and stand-offish but the waiting staff are very helpful once you get chatting. The menu has pictures illustrating the dishes but not in a Tenerife kind of way, more glossy food photography than package holiday if you get me?! Prices are reasonable given the views are free. We ate here twice in two days so that speaks for itself. Dress code is smart/casual.
Posh dinner…
We headed to Percorso
https://www.percorso.ru/
for a serious treat in five star foodie heaven. Interestingly, they don't do michelin stars in Russia. There is not a single establishment (I'm open to correction here) noted by the Michelin guide. The inspectors of the french company do not esteem Russian restaurants however if they did, I'm guessing this elegant dining experience would definitely boast a star. Located in the Four Seasons hotel 
https://www.fourseasons.com/stpetersburg/
 we opted for a tasting menu and it was every bit the fine dining experience we'd hoped for.
The bar?
Xander at the Four Seasons is a buzzy spot that's perfect for fancy pre-dinner drinks or a digestif afterwards. A library style bar with barmen who can talk the talk but also know their product. Great people watching and not too stuffy.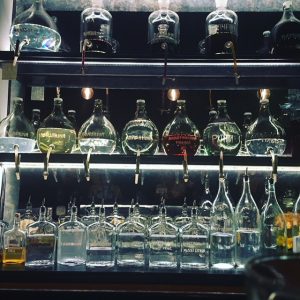 The vodka…
Well it'd be rude not to! We stumbled (ahem..) on a cracking spot called The Diligent Drinkers on trendy Rubenstein Street, a street well known for it's new-age eateries and cool bars. It's a hub of arty hangouts and vodka bars.  The barman, like most locals, appears a little distant in manner but once he gets chatting we realise he's a lovely guy. You get used to their serious expressions after a while. It's a little unnerving at the start but you quickly realise that even when the locals are having a laugh or perfectly happy, their face doesn't show it. It's just their way. We drank a rainbow of flavored liquors and vodka shots and slowly adjusted to the 'sip' rather than 'down in one' mentality we usually reserve for shot glass servings.  We went back there several times. For several vodkas. A spirited experience!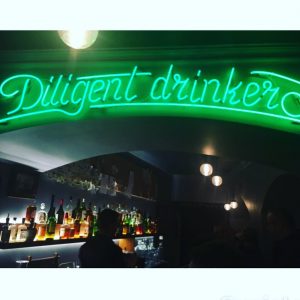 The football…
My hubby is football mad and really wanted to take in a match while we were there. I had some concerns about his safety going to the match if I'm honest. We've all heard or seen disturbing footage of Russian football hooliganism. However he booked tickets for himself and the other lads on the trip to see Zenit take on CSKA Moscow in Zenit's home stadium in St.Petersburg. This is the Russian premiere league but as good a standard as any of the top European leagues and it turns out it couldn't have been a safer or more enjoyable experience. The crowd noise and fan participation was incredible with airport style scanners and x-ray baggage checks on entry. These hugely positive reports certainly bode well for the forthcoming World Cup this year and may put some minds at ease too!
The shopping…
Don't come home without a Russian doll for someone! They range in price from about a fiver upwards. Our kids have enjoyed taking them apart over and over again!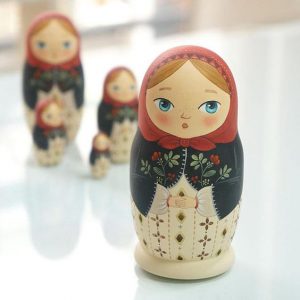 (Pic – Pinterest/Etsy) 
Taxi prices…don't get stung! 
To say there's no consistency in price when grabbing a cab would be an understatement. It seems ordering a cab from your hotel rather than on the street was the wiser/cheaper choice. Also, stick to 'chain' cabs, there's a black and yellow company that seem more reasonable than the unbranded cabs.
In summary…
Several revolutions, uprisings, assassinations and political intrigue: this is a city filled with stories and history and you feel it every moment. It pays to do some planning for a city of this scale so have some pre-bookings arranged.
 Enjoy x