Holiday style…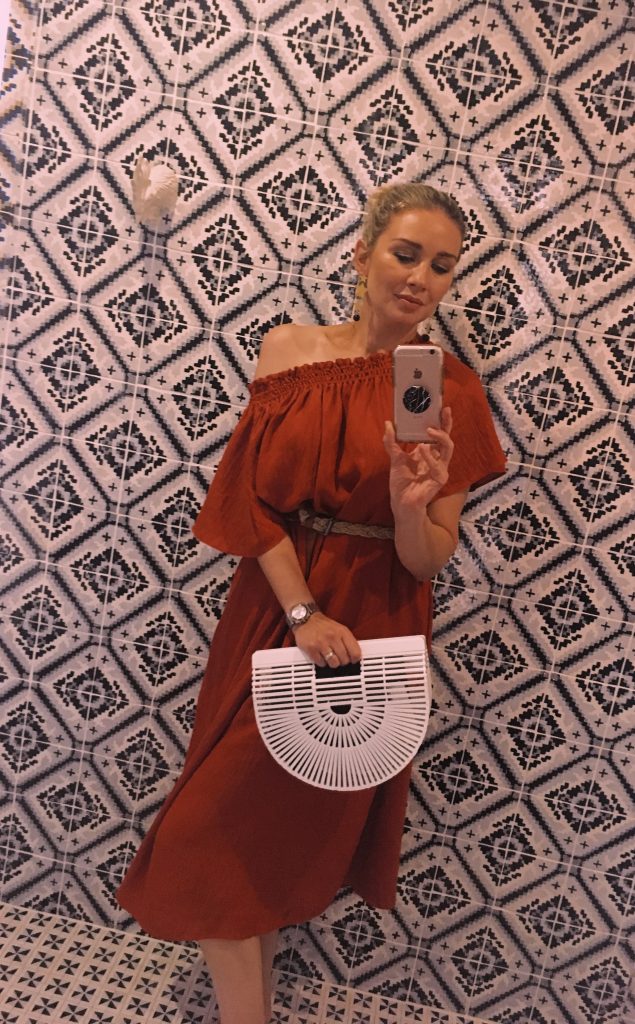 This definitely wasn't a planned post but after the number of questions and queries I've received re my bargain H&M dress, I had to share the details. Especially seeing as it's cheaper now than it was a few weeks ago when I purchased it in pre-holiday panic mode! This rust-coloured, bardot-style dress is somewhere between a midi and a maxi and is just a perfect holiday dress. It's kinda an anytime dress to be honest but unless you're a supermodel, it needs a bit of nipping-in at the waist to give some definition and shape.  I went for a natural looking rope-style belt I already had to cinch in the waist.
It was €39.99 and it's now €22. See the link below to purchase…

The white bamboo basket bag deserves special mention too. This basket style took off this summer and it seems the savvy Irish duo, Grace and Ellen who run Irish accessories company, Glitz n'Pieces, did too. I first interviewed this sassy duo five years ago in the Ireland AM garden when we did a slot known as 'Boost my business'. It was an item I always loved doing, championing entrepreneurs both young and old and giving new start-ups the chance to plug their business live on air to a nationwide audience. It was always super to hear the response they'd receive after the item aired and the attention their website or new product or service generated. These girls had it, they were charming and full of energy but knew their stuff too. These days they're getting all sorts of fashion press from the likes of fashion bible Grazia, for both this basket bag and the initialed leather clutch known as the 'Olivia pouch', below.
(Please note should you purchase any of the above, I may receive a commission. This does not affect the price you pay).