Inchydoney, West Cork. Inch Perfect!
Summer 2020 – the season of the stay-cay!  
I think we're all agreed that we can enjoy a super holiday here in Ireland and when the sun shines, there's probably no place more wonderful or beautiful than Ireland's rugged coastline or colourful villages and towns.
Speaking of those colourful towns, we recently headed to the heritage town of Clonakilty and more specifically, Inchydoney Island in West Cork. It's a fair old drive from Dublin (about 4.5 hrs) so you definitely need to have the kids prepped with tech, snacks, treats or whatever your chosen bribe involves!
We'd been to Inchydoney Island Lodge & Spa before but without the kids so I don't need to tell you that it's a very different holiday experience when you bring your brood. Still, I remembered it as a special place in a unique location. I wasn't wrong but I had underestimated how incredible it's location actually is. Driving on to Inchydoney island feels like the edge of the earth and when they say the hotel is on the beach, they mean it literally, it's perched proud on top of a beach that has been voted as 'Ireland's best beach' and the resort can boast the most beautiful views of the Atlantic Ocean. I'd go as far as to say it's unrivalled. But I'd love to hear of a location that might give it a run for it's money?!
I remembered it as a beachside hotel that was rich with mahogany and dark leather. Now (after extensive renovations during lockdown) it was chalky, light, bright and whitewashed with elegant white beams and a real Hamptons feel to it. Think plush sofas covered in soft, natural fabrics with breton stripes and crisp white planation-style shutters. This was suddenly interiors heaven. I knew I'd go home wanting shutters on every window!
You always know you're in a nice place when there's the welcome drink moment in the lobby. I'm a sucker for a welcome drink or any extra touch! Straight away it sets the tone doesn't it. Even if the kids are tired and cranky and mildly embarrassing you. That's the thing about this place though, it has a sophisticated feel without the stuffiness of a luxury resort.
Our family suite had breath-taking views of the ocean and was beautifully finished. There's a mix of room types as well as a self-catering apartment option so be sure to check out all the styles available at your time of booking.
The main lounge (upstairs) is like the centrepiece of the hotel. There's guests sipping cocktails or enjoying afternoon tea, reading books from the library wall and strolling through in fluffy bathrobes en route to the spa. We wanted a bite of lunch and hoped our kids would pretend to be civilised for half an hour. Every cautionary covid measure has been put in place here and we felt safe as we ordered and dined there. The crayons they give the kids are 'for keeps' – there's no more sharing crayons and sending them back afterwards as per pre-covid family dining. We were living a covid world and this hotel were just as welcoming as before, albeit behind layers of protection like face shields and masks.
We had a swim booked in their sea-water swimming pool later that day (remember, you need to book everything now from swimming pool and spa appointments to gym time and even breakfast in order for hotels to manage their numbers carefully) and it's fair to say the pool is another unique offering for the resort. Seawater is pumped in daily from the ocean and then heated to 31 degrees. As someone who's far too much of a wuss for actual sea swimming, this was the ideal option! I also paid their renowned spa a visit while there, it would've been rude not to! They were kind enough to arrange two of their signature treatments for me, the seawater massage bath (heavenly) and their body polish scrub/massage. Thanks to both of the expert therapists (Keelyn and Carla), they managed to work their calm magic and help me completely switch off and relax for over an hour. You Mamas know that you can't quite put a price on that peace and quiet!!
I haven't even mentioned the incredible beach, right outside the front door. From surf lessons to kayaking, cycling, walking and whale watching to seaweed foraging – there's something for everyone in West Cork. The wet suits (as we all discovered this summer) were an essential for the kids and it meant they could enjoy the water even on a dull Irish day. Inchydoney beach is a playground for young and old with fashionable foodie trucks pulling up and selling everything from good coffee to crepes and waffles, there's a real buzz about the beachfront at Inchydoney.
We hit the town of Clonakilty (or 'Clon' as the locals call it) the following day and pottered around the cosmopolitan, seaside town filled with colour and personality. There's a big focus on local crafts and Irish design here so keep an eye out for the Clonakilty makers trail if it's something you'd enjoy check out the details here. There's also the West Cork model railway village and Michael Collins house that are must-visits on many visitor must-do lists.
Skibereen is another vibrant town that we didn't manage to get to this time round but its famous for it's farmers market. Other must-dos in the area are Warren Beach and the Cliff walk in Rosscarbery which also has the lagoon activity centre and Smugglers cove, all of which are suitable for kids. Then there's the village of Glandore with more stunning views of the Wild Atlantic way and be sure to stop off at the Glandore Inn for lunch, this is some inside scoop from a friend of mine (cheers Don!). I'll need to return to check-off a few of these attractions myself, there's just never enough time! Want some more of the local intelligence? Well, further west there's the fishing villages of Union Hall, Castletownend and Baltimore – all beautiful with great pubs, restaurants and views, the Beacon in Baltimore an absolute must for views I'm reliably informed. East of Clon is Timoleague (hit up Monks Lane for food!) and Courtmacsharry (lovely walks) and then of course Kinsale which needs no introduction at all… All the above are not more than 45 mins from Inchydoney.
If you happen to have time on your side you could also move upwards and explore the Mizen Peninsula (Ballydehob, Schull, Crookhaven, and the beautiful Barleycove beach).
We did a mix of dining between local pub grub and dining at the Dunes bar (casual and very family-friendly) at the hotel and then we did a treat night at the Gulfstream restaurant (the hotel's main restaurant). With panoramic views of the Atlantic it's a uniquely positioned, fine dining restaurant that brings you on a culinary tour of West Cork with lots of surprises from the chef. Those extra touches I mentioned earlier! Speaking of those extras, I noticed later that evening that at turndown they don't just leave the traditional homemade chocolates on your pillow, they also leave a lavender pillow spray for you to spritz on your pillow to ensure a relaxed, deep sleep. Zzzzzzz!!! Those extra touches go a long way in my book. Especially when they get all the basics right too.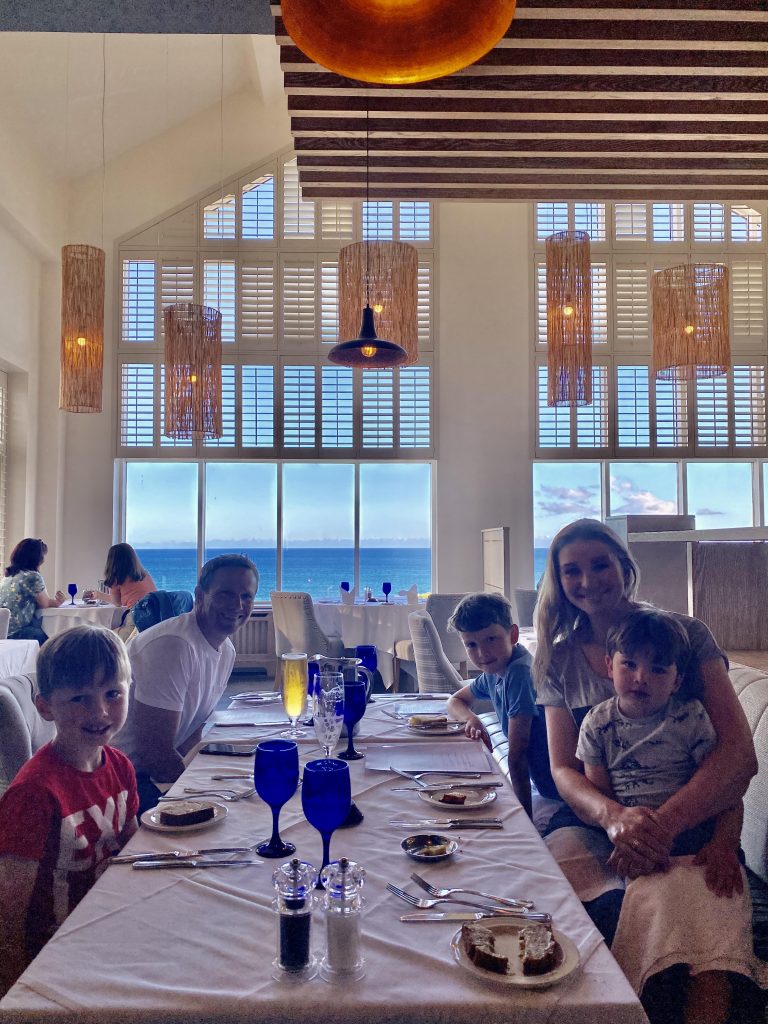 And as for West Cork, I knew it was special but I didn't realise quite how much there is to see and do. Don't change anytime soon Inchydoney, we'll be back!
Wherever you go on your stay-at-home holiday this year, enjoy it!
Anna x
P.S. Check out the Inchydoney Lodge and Spa live 'beach cam' on their website here. 
Note –  I had the arduous task of researching how the hotel are adjusting to our new normal in this time of covid and reporting back to you. Someones gotta do it!  This was therefore a 'hosted trip' however I report on my experience with my own words and opinions. 
For more of my 'Daly Destinations' reports, check them out here… 
Happy travels folks x