Rainy day painting project!
A rainy day a while back I had a thought. I'd paint my kitchen table with chalk paint. I'd been chatting to the painting purveyors at the Annie Sloan stand at the 'House' expo in the RDS where I was broadcasting for Ireland AM and they were wonderfully creative and brimming with ideas on how to resurrect tired furniture and make it trendy, brighter and just generally nicer. They obviously inspired me because once the supplies arrived, I jumped into this project with gusto.
I even included the kids – what was I thinking??!
The before shots! Here's what the table & chairs looked like before they got attacked!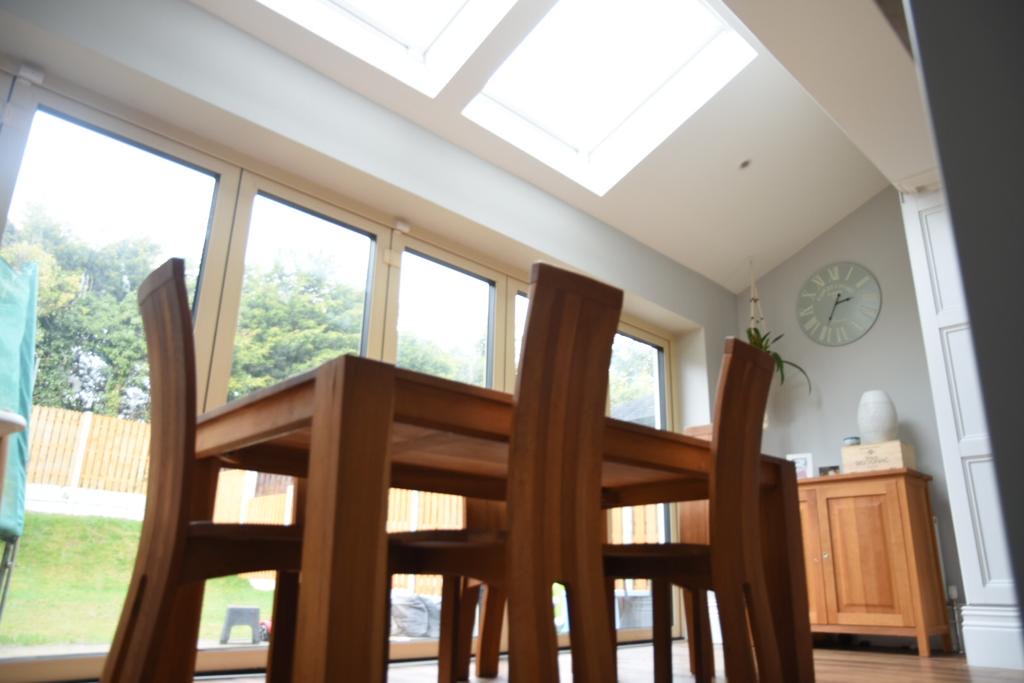 Our kitchen table was bought about 10 years ago and it wasn't a cheap purchase. Lots of you may have something similar, too expensive to just throw out but a little dark when contrast with everything else in your home? We've since moved house and the majority of our house is grey (please tell me that's still trendy 'cause I won't be changing it anytime soon!!) with white or off white and lots of bright, lightness. Therefore this dated table and chairs became a bit of an eyesore.
So, I (we!) went for it.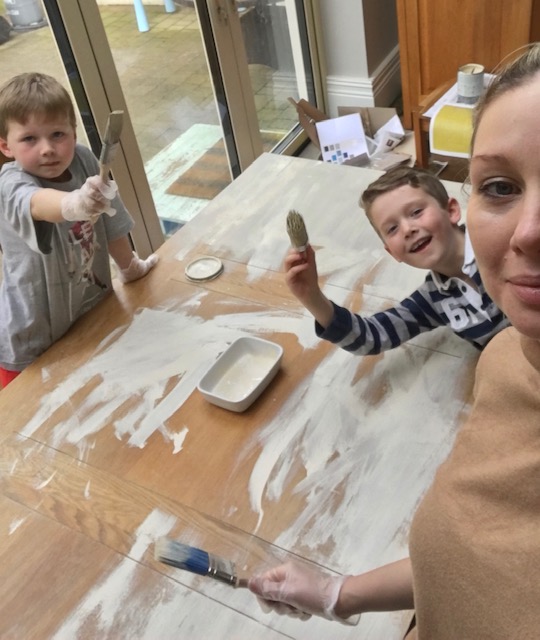 What do you need to know if you're doing the same?
If you're going to involve the kids, let them in at the early stages and then fix up later when you have a bit of peace & quiet!
Smoothing over the cracks and general wear and tear of the table is something I'd compare to putting primer on before your foundation. I know I don't do it half as often as I should but you know it's a good idea!! So, sand, sand and sand some more before doing any painting. A smoother surface is a lot easier to paint.
Quality tools are key – the Annie Sloan brushes don't shed while you're painting regardless of how amateur your brushstrokes are!
Remember, chalk paint is only good if you like that chippy, distressed look. If you want a sleek, polished effect I'm not sure chalk paint is the right choice. Open to correction here however, I'm no expert!
Apply the first coat. This is where I let the kids go mad, I knew I could fix up their less-than-accurate strokes later with the coat that followed. This is a fun part. Make sure you've got plenty of newspapers down on the floor to protect from the spillages.  There will be many.
Go with the direction of the grain (if that's the look you want) and remember chalk paint dries fast! About 20-30 mins.
Then it's time for your second coat (I'd go this alone!!) and I used some water in parts to move the paint along if I felt it was getting too stodgy/ thick.
You can distress with sandpaper at this point or go straight for the sealing wax (an important step) which is what I did.
Sealing wax is applied with a special wax brush but you can use an old, clean tea towel to do it too. Only do this when paint is fully dry.
Once the wax is completely dry, it's a good time to distress it with sandpaper if you fancy scuffing some corners etc.
I didn't do that last trendy scuffing bit but I quickly realised that my kids are doing it for me, they're kind like that. Eek. It's been scraped and chipped and I've had to aggressively scrub it with all sorts of chemicals to erase markers and sharpie 'accidents' and you know what, they all add to the shabby-chicness of it.
At least that's what I'm telling myself!!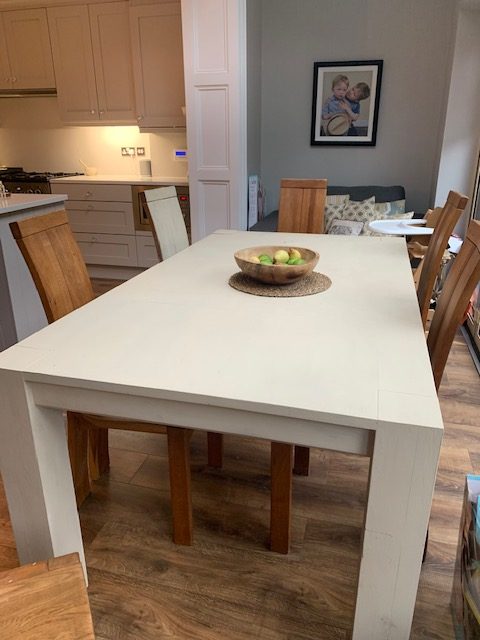 If you've any idea what I should do with the chairs (I'm in need of a good suggestion – started painting one and wasn't happy as you'll see from this above pic!) I'd love to hear your suggestions!
Overall it seems once you have the right tools, follow a few basic steps and don't go mad scuffing it too much it's a pretty straight forward process. It's definitely added to the lightness and brightness of the room and for my first painting project, it wasn't a bad result. Will get much more adventurous with the driftwood and liming finishes down the line!
I used 'Old Ochre' from the Annie Sloan range of chalk paints.
Have fun!
Anna x
(Note – this is not an ad, the supplies were sent & gifted to me by Annie Sloan).