The Anna Daly Column: why a 'break' away with the kids is anything but relaxing for mums
Let me start by saying that I adore my kids. Just like any other parent, I would literally do anything for them.
We have three boys ranging in ages from two to seven. They're, ahem, "spirited" as my mam will politely say (when in reality they're just being a pain in the arse).
I should also state that I know these years are precious and that we should all cherish similarly special moments (and I do… most of the time). 
Recently, I've been reflecting on holidays with children. Maybe some of you managed to get away for the midterm; hopefully many of you at least squeezed in a bit of a break – either at home or abroad – over the summer months. Perhaps others will be heading off over Christmas; going to grandparents, extended family, or close friends in Ireland or further afield.
But, let's face it; whether a long-weekend in Sligo or a longer stint on the Mediterranean coast you have to acknowledge that holidays are not really ever a break for us mums.
For one thing, you're not just a mum on holiday: you're also the childcare/creche/after-school care/grandparents/birthday parties that your child regularly enjoys too. In the normal run of things, you at least get to grab a coffee on the way into work or do a grocery shop in relative peace and quiet.
There is no doubt that are also moments of magic – moments when you all laugh together at something ridiculous and you realise that packing up the car or dashing to the airport to make your flight is worth all the extra effort.
And yes, it's important to break away from the norm and explore. However, I'm going to go out on a limb here and state that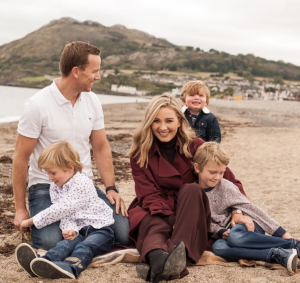 holidays or breaks with young children are NOT that relaxing. At all. Yup, for every cocktail sipping, dangly earring photo (as per photo above), there are a thousand moments where I'm ready to scream like a raving lunatic.
No, I absolutely won't wish these precious years away. Yet, I do want to reassure anyone who looks at another parent's "aspirational" holiday pics and assumes everyone else has it perfect… that is really not the case.
We're all sweaty messes in the sun trying to unfold a buggy as well as trying not to lose our shit with the kids and the hubby. That glam pic is about 5 percent of the actual holiday. The other 95 percent, well, that's nothing short of whirlwind.
Til the next 'break'!
Check out my article on Herfamily.ie.