Daly Destinations. What's on…in Connemara
Like many of you, we went back and forth on plans for our family holidays this summer. After months of restrictions and uncertainty we were all agreed a change of scenery from home would be just the tonic. Once we accepted that the overseas holiday wasn't on the cards this year, we settled on the good 'aul Irish staycation and we headed West.
They say Clifden has an impact on all who visit it, the small town that has something for everyone definitely has a unique charm and something special about it. We headed there on a Sunday afternoon and it took about a 3.5 hrs from Greystones. We checked into a three-bed self-catering apartment in the town, located in the courtyard of the Station House Hotel Each apartment is self-contained and has every modern convenience, including TV, microwave, fridge, hob, dishwasher and washer/dryer. It provided the perfect base for us to explore Clifden and the wildness and beauty of the west. It's worth bearing in mind that if you're staying in a place like this (or a hotel) everything needs to be booked prior to arrival. From swimming times to breakfast – it's a new whole new world when it comes to pre-booking activities and dining – something we're not wonderful at as a nation it has to be said!
We had a lazy evening once we arrived, caught up with friends and the following day we took  the scenic drive along the Sky Road. One of the most picturesque parts in the Connemara region, the circular route is 16km long. This should be a famous route (maybe it is?!) for it's incredible, breathtaking scenery and rugged beauty. We stopped to feed the donkeys and suddenly we were on our holidays. Out of office. Doing something different in a new place breathing in the fresh salty Connemara air, it was just marvellous.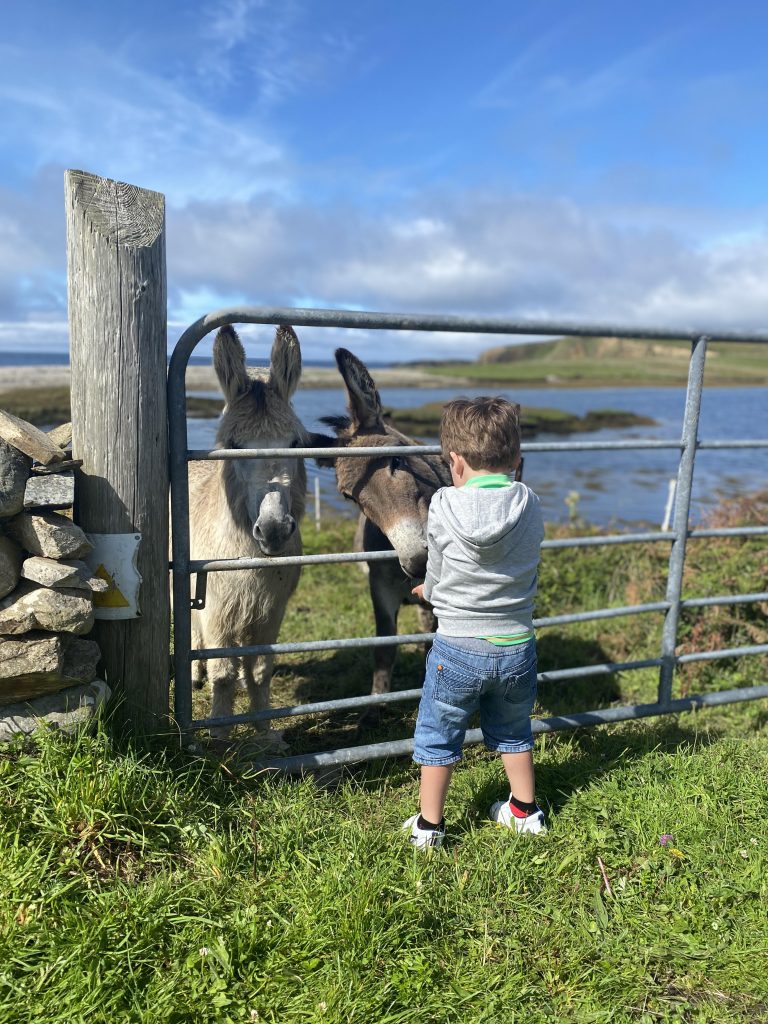 Afterwards we drove out to Omey Island – another must-visit spot, Omey Island in Claddaghduff is accessible by car or on foot in low tide and it's quite the novelty driving across the acres of firm sandy beach in the car. Be sure to check the tide timetable beforehand however or you could be stranded if it the tide comes in!
The largest town in Connemara, Clifden is a colourful place renowned for it's many seafood restaurants, craft shops and independent boutiques. There's a real buzz about this place especially at the market square. It's the type of place I could potter around all day and I certainly gave it my best shot!! We headed to Guys bar for a spot of lunch. A cosy pub on the main street, it's the kind of place you'll enjoy a chardonnay and chowder beside a turf fire or tucked into a cosy snug with foxford blankets and rustic, woody interiors.  They were excellent with the kids too with great lunch options for the little ones. For infants there's the option of a 'baby bowl' in lots of the eateries around the area -it's a handy option for the infants in the family when sometimes the kiddie menu is too grown up. These baby bowls (mash & gravy) are either free or about 1 or 2 euro in most places. It's a clever addition to the family-friendly restaurant or bar.
I'm not sure about the rest of you but I've noticed that you can bring children anywhere and all they really want is a playground. Or a football pitch or at least somewhere to kick their ball around. The finer details are absolutely lost on them – worth keeping in mind when you're choosing hotel/accommodation options. They'll give you no thanks for plush carpets! Thankfully, just outside the town of Clifden there's a large playground and the above-mentioned football pitch to run off some crazy!
Take me to the Island…. 
Ben was mad to take a ferry crossing to Inishbofin. I wasn't. Rough seas were never my friend. However, he was especially keen so I sucked it up (alongside my travel tablets!) and off we set. You buy your tickets on the morning of the trip at the ferry ticket office just across the road from where the ferry departs in Cleggan (about 10km from Clifden). Arrive at least 30 mins before the 11.30am sailing. The crossing takes approx 30 mins and it's worth noting that all adults must wear a mask. Their numbers have been reduced and there's sanitiser stations when you board and exit the boat so lots of careful covid considerations have been implemented. Two of us (me included!) didn't feel wonderful mid-journey but once on dry land we were back to normal and ready to explore this dramatically beautiful island of Inishbofin, a tiny rustic island that's home to about 200 residents. It's like another world. The long walk ahead of you will be good for your body but this is a place that's good for the mind. You can do bike-hire or choose one of three looped walks, each with incredible views along the route. We opted for the Western loop which is the purple trail – takes about 2/2.5 hours and I'd honestly say I loved every moment of it even though it's more of a hike than a saunter in parts. The contrast in colours of the bright blue Atlantic ocean against the greenest of green hills and iconic Connemara stone walls, you feel you're somewhere incredibly special. There's three hotels on the island but all were closed the day we visited (July 2020) so we rewarded ourselves with lunch in The Beach days bar and still had plenty of time to relax before our 5pm return crossing which thankfully was much calmer on return!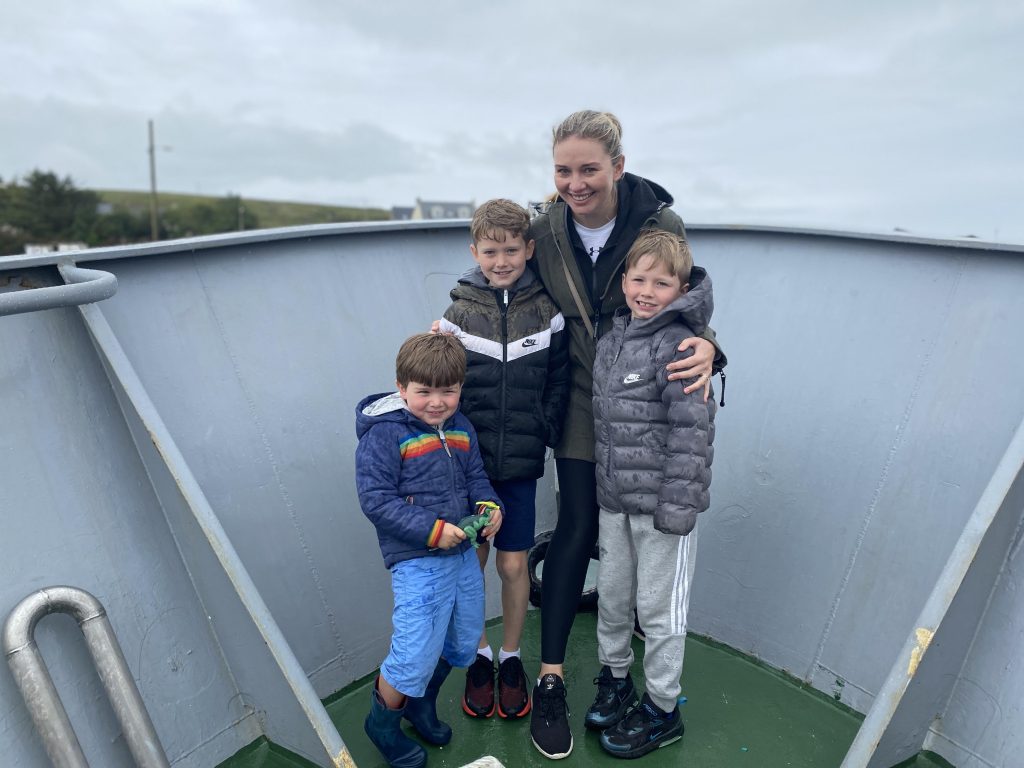 Roundstone & some heavenly beaches 
The following day we headed to the harbour village of Roundstone (about 12km from Clifden) where it was sleepier than Clifden with many of it's shops and restaurants still closed post covid. We enjoyed a coffee in a friendly local coffee shop and wandered around the quiet village known as the 'Botanist's delight' but it was south of the village we were particularly interested in. About 5km outside Roundstone, there's Dog's bay and Gurteen Beach – two incredibly beautiful beaches that lie back to back forming a tombolo. We started on Dog's bay and walked across to Gurteen beach. The fine white sand and turqoise transperant waters are not necessarily the kind of beaches you expect to see in Ireland. As someone said on Tripadvisor, it's like being in the Caribbean but with significantly colder water! These beaches are my must-see of the holiday and a real highlight.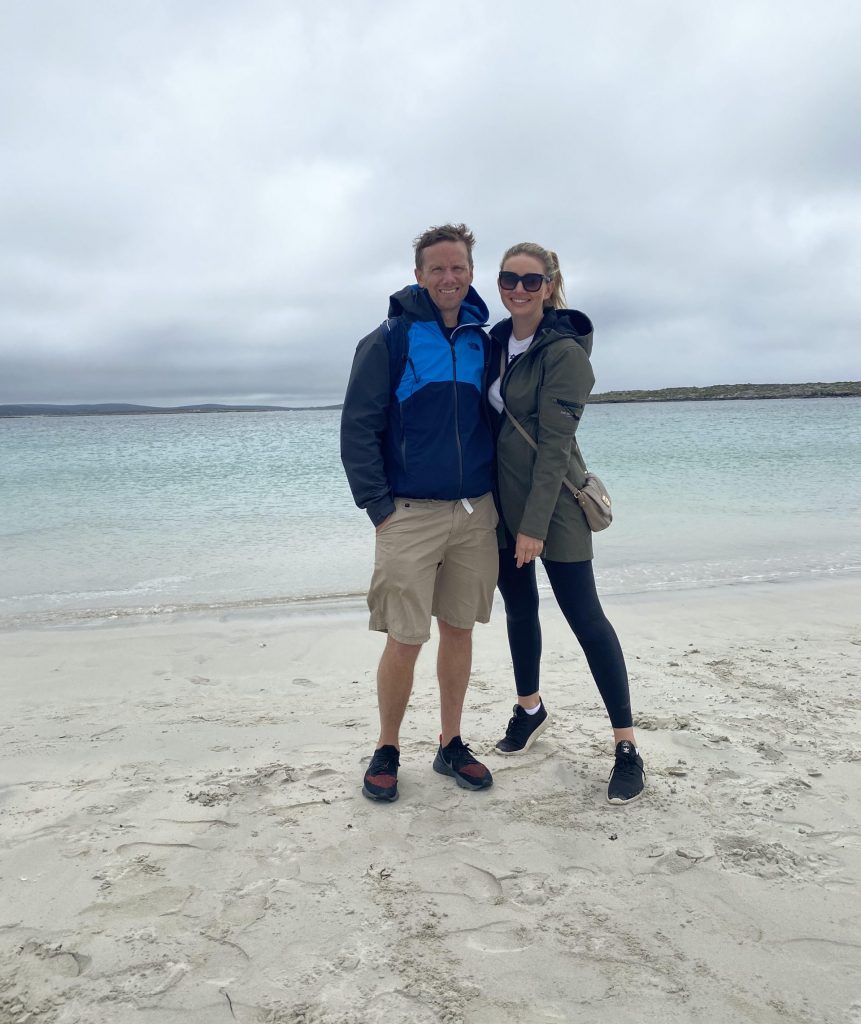 Connemara foodie experience
Misunderstood heron is food truck in Lennaun and on the shores of the Killary Fjord in Connemara about 35 mins drive from Clifden and it's getting a lot of press and attention but for good reason. My husband Ben doesn't do queues. He queued for 1 hour, 10 mins with several moments where he threatened to throw in the towel but like all good things, it was worth the wait. My dish was spicy chicken on a bed of chilli beans, rice and a carrot and peanut salad. Delicious. This is street-style food set against incredible views (on a clear day) from their wooded outdoor seating area. If you're looking for somewhere quirky to eat along the Wild Atlantic Way, this is the answer. Just have patience with the queues or get there earlier than we did! We arrived about 1pm. Rookies!
Other restaurants we enjoyed were Mitchells, a fine seafood restaurant on the main street, Steam for fresh coffees and brunch (located in the courtyard of the Station House Hotel and we never made it to the tapas wine bar, the Lamplight but we heard good things from the locals. Ballynahinch Castle isn't far away and comes highly recommended from a friend who said it isn't 'child UN-friendly'. That was enough for me to be concerned my giddy-goats wouldn't have the required decorum!
For the rest of our stay in Clifden we spent time with old friends making new memories, enjoying garden tours and driving in a classic Morris Minor while making plans to return to the west very soon.
Other spots on my list for our return visit include the Victorian walled gardens at Kylemore Abbey and the Connemara National  Park for a beautiful forest walk with some awesome views.
For now I've realised that we all dream of being far away when sometimes you need to discover the beauty that's right on your own doorstep.
Happy hols!
Anna x