Who's behind the shoot?
My first website photoshoot…
Getting to do photoshoots with pro glam squads is never anything like hard work but when you get the opportunity to bring together your chosen crew it's a real treat. Given her work is now gracing the pages of bibles like Grazia, NME and Tatler, I was fortunate enough to secure the uber-talented photographer that is Lili Forberg www.misslili.net for this new site. Thankfully I'd been privileged to have worked with Lili in the past and we bonded over several things that day. I loved the results not to mention her no-nonsense approach to shooting. So, phenomenal photographer in place it was time for the creatives with their magic markers and wave wands. Cue Lyndsey Cavanagh www.lyndseycavanagh.com with her self-made feather earrings, big hair and even bigger kit of magic make-up. This isn't just a make up artist who looks the part and carries gigantic volumes of glam supplies though. Lyndsey happens to be nominated at every beauty awards ceremony these days and is in huge demand. However, she's all mine today!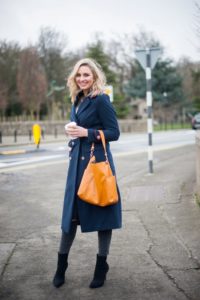 I just woke up like this….
When it comes to hair I like styles that look like you haven't tried too hard. It's an art in itself creating something that's not perfect and I hate anything to look too 'done' if you get me? The styles that look like you just woke up with your hair like that, I love those ones. The trickiest of all probably. That's where Anna from Hession Hairdressing www.hessionhairdressing.com comes in, the queen of the perfect beachy wave. I've been going to Paul Hession and the team at Hessions for my colour and cut for many years now and I love how talented his team are. So, Anna got down to work on the 'easy wave' that I just woke up with!
The kindest kind of light…
Unsurprisingly Lili also has the scoop on many things including smart venue choices. Her key criteria; the best backdrops as well as spaces that are flooded with natural light: the kindest kind of light when it comes to photography! The more kind light the better as far as I'm concerned. We agreed to meet at Union Cafe in Mount Merrion www.unioncafe.ie where we were joined by the team and the shoot got underway. Over coffees we discussed the outfits I'd brought as Anna got some tunes going and we traded industry secrets and gossip. These are girls who are incredible at their jobs and as the morning progressed I was reminded why I'd booked them. Girl's girls (I love a girl's girl!) who are only too happy to support other women in business just like themselves. There would be no shortage of referrals, recommendations and goodwill amongst this bunch of strong female creatives. It was lovely. And fun. And definitely not hard work. Or even work. It's a huge cliche but I left feeling inspired by our chats about careers and the digital world among other things. When Lily sent me through the results of our day together I was so pleased with the outcome. We'd all played our part and although I rarely like photos of myself (who does?!) I was chuffed with these new shots for the website.