Winner alright!
Here come the girls!
They call it work. I had the pleasure of judging ladies day (it was also Royal Ascot trials day) at Naas Racecourse this afternoon (Sunday May 20th) and it wasn't just the racing that attracted the crowds, it seems there was unbridled enthusiasm for the style too. And unsurprisingly the stakes were high. Of course there were the seasoned ladies day entrants who know precisely what's required to win and use the racetrack and the pavilion like it's a catwalk. It's quite fascinating to see it all in action. Then there's the ladies who are just there to enjoy a nice day out and happen to have made an effort for the day that's in it. As a judge I was just looking for some genuine style and someone who happens to wow in an outfit that she wears with confidence. Not someone trying too hard. Not something too contrived. Chic and elegant with an individual touch.  I found it in spades.
Another aspect that I'd noticed before at race meetings, but it was more prevalent than ever today, was the level of networking taking place amongst these entrepreneurial females. This was about the racing (for some), the fashion (for others) but it was also about the business of fashion. There's milliners, event organisers, pr professionals, food producers, designers, executive coaches and an array of creative types all trading ideas and connections while showing support for each other's businesses. Did someone say lovely girls? We're not just talking pretty faces here. Many are smart, savvy Mums who are using their downtime wisely working the room and creating lots of future business long after the posing and pouting is over.
Thankfully my fellow judges (Klara Heron from www.irishcountrymagazine.ie ) and Anna Fortune from the Kildare Post ( www.kildarenow.com ) were completely in agreement  with me on our five finalists and indeed our overall winner.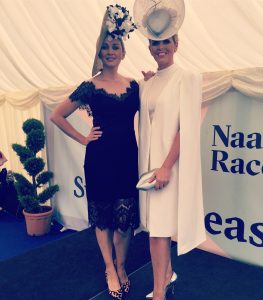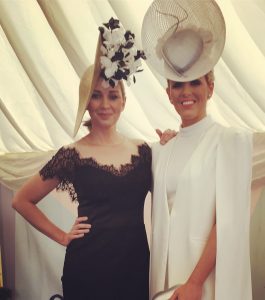 It was only when I heard the details of Charlene's outfit that I thought about sharing it on my website, this girl had put together a very cost effective look yet looked a million dollars. Odds are it's the bargain cape that did it for her! So, want the scoop on the winning outfit? Here goes…
Hat – Charlene happens to have a business/blog and part of that is renting out hats and head pieces. Check her out at 'The dress house' on facebook or @thedresshouse1 on instagram.
The cape – this winner (which in my opinion is the key piece in this entire look) was bought by Charlene for £30 on Depop (the pre loved clothing sales app). It's a Lavish Alice cape. See below for more Lavish Alice pieces.
The dress underneath – 'A wee cheapie dress that was a present' says Charlene. You only see the neckline of this dress so in fairness to her, you could completely get away with something very affordable for this part of the outfit.
The shoes – Penneys hun! www.primark.com
The bag – probably the most costly part of the outfit. The signature 'lips' clutch is by Lulu Guinness ( www.luluguinness.com ) at Kildare Village (www.kildarevillage.com ) and retails for about €200. (Lots more options below). These iconic lips clutch bags make a great style statement.
Big congrats to Charlene!
For more inspiration for race day fashion or any special occasion you have coming up, take a look below at my race day fashion picks..
Anna x